Have you ever had one of those conversations where you're reminiscing with friends about some shocking event, and you and your friends share stories about where you were, and what you were doing at the moment that shocking event happened?
This scenario played out for me recently. I was in Charlotte with my friends Steve, Sharon, and Melissa. We were having lunch at a Mellow Mushroom. Over plates of delicious calzone, we swapped stories about the big shocking events that left a lasting imprint on our American psyche. We got to talking about where we were, and what we were doing during some of the memorable events of our lives. And it got me thinking, "Man, this would be an interesting topic to write about."
I brought this subject up with my mom. She told me about the day when John F. Kennedy was assassinated. She was nine years old at the time and yet she remembers that day as if it just happened. She remembers being outside playing when she heard an adult woman shout, "OH MY GOD! THE PRESIDENT IS DEAD! SOMEBODY KILLED THE PRESIDENT!"
She remembers vividly April 4, 1968 when Martin Luther King Jr. was murdered at the Lorraine Motel in Memphis (her name happens to be Lorraine by the way). She remembers vividly June 5, 1968 when Robert F. Kennedy was assassinated at the Ambassador Hotel in Los Angeles. She remembers vividly July 20, 1969 when Apollo 11 landed on the moon and Neil Armstrong famously said, "that's one small step for man. One giant leap for mankind." She remembers vividly December 8, 1980 when John Lennon was murdered on the steps of The Dakota by Mark David Chapman.
I came up with my own list of events. These events sent shockwaves that rippled through our nation, from Miami to Seattle, Boston to San Diego, and to a million places in between. These events made strangers engage in anxious conversations while crowding around television sets. These events snapped us out of our hectic lifestyles. Suddenly, we were forced to let our guards down in front of people we didn't know. Suddenly, we were forced into having uncomfortable conversations with our children. These events united us, for a short time at least, before we all returned to our normal divisiveness.
These events were so shocking, so instantly memorable that, as you read this, your brain will immediately transport you back in time. You will reminisce, the same way you reminisce when you hear your favorite songs of yesteryear.
And since we're speaking of songs of yesteryear, in the words of Minnie Riperton, let's take a trip "back down memory lane."
The Challenger Explosion – January 28, 1986: Has there ever been an event in American history that went from cheers to tears faster than the launch of the Space Shuttle Challenger? The launch was a huge media event because one of the astronauts was Christa McAuliffe, a social studies teacher from New Hampshire. She was selected from more than 11,000 applicants to be the first teacher to travel into outer space. Because of McAuliffe's presence, NASA arranged for many schools to view the launch live on NASA TV.
My fourth grade class crowded around a TV in our school library. We were excited. The whole country was excited. It was a historic event. Little did we know that it would turn out to be a tragic one as well.
The shuttle launch went fine. But as the Challenger ascended into the Earth's atmosphere, something unimaginable happened. At 11:38 a.m., 73 seconds after takeoff, the Space Shuttle Challenger exploded into dozens of pieces and crashed into the Atlantic Ocean. 
We all stared at the TV in disbelief.
The silence from my classmates was deafening. My teacher didn't say a word. She just held her hand over her mouth for what felt like forever.
I was 10 years old so of course my brain was incapable of interpreting what my eyes had just saw. The only space shuttles I had ever seen explode were in Star Wars movies.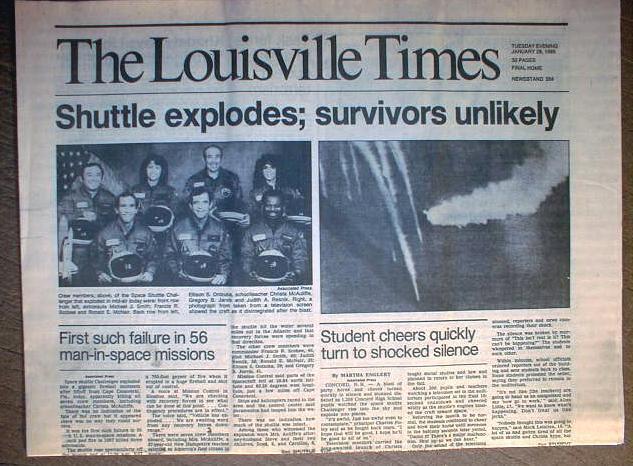 Jerry Cosyn used to work at the Kennedy Space Center. On that fateful day, he had a birds-eye view to one of America's most famous tragedies.
This is what he posted on his Facebook page.
"On January 28th 1986, I was standing on a stack of wooden pallets at the back of the Launch Control Center at Kennedy Space Center. I'd been working there for about three years, and seen over a dozen launches, and they were always exciting. I loved working there—it was sort of a childhood dream for me. Growing up in the sixties during the so-called "race to the moon", I'd wanted to be a part of the space program for as long as I could remember.
When the shuttle lifts off, there's a sound—even from three miles away—that pounds through your skin and nerves and bones. A launch is the most thrilling thing I've ever seen. I used to get a lump in my throat every time I saw a launch; it didn't matter how many times I'd seen it before; it'd always bring tears to my eyes. The achievement of building that massive, incredibly complex, unbelievably powerful machine, and carrying people, equipment, entire homes into space, is something the entire human race should be proud of. I used to watch launches and just think, "Look at what humans can do when they put their minds to it."
It was a tremendously beautiful morning, with a sky the color of blue that I've only seen in Florida. When they finally called the count down to nothing and lit her up, I was holding my breath.
She started to climb. The way it works with NASA is that KSC (Kennedy Space Center) is in charge of a launch until the vehicle clears the tower, and at that time Johnson Space Center in Houston takes over and is officially in control of the mission. The tradition is that as soon as she clears the tower, everybody watching at KSC cheers. Then as she climbs a bit and begins that slow, lazy roll over onto her back, there's usually another cheer.
Challenger rose, and she rolled, and the sky was lit up like a new sun had come to rival the old, and in that cold, crisp air, the sound was pounding through us and everything looked so beautiful: that deep blue sky with our bird lighting it up in white-orange, the water so deep blue....
And then there was that puff, and somebody next to me said "That's too early for sep," meaning separation, when the solid boosters are dropped off and the orbiter continues on its own engines. I stood there and watched that massive cloud, and saw the two devil horns of smoke curl out of it as the SRBs climbed crazily out and went up on their own, and I knew, and everybody around me knew, that we'd just seen the worst thing possible during a launch, the thing nobody ever talked about or ever wanted to see. We didn't need to hear from the control room; we knew. And in fact it was at least a couple of minutes later (which seemed like hours) before we got any word from the control room over the PA, and then all we heard was "We have lost the downlink." Such a simple statement: "We have lost the downlink." But what it meant was clear to us all.
More minutes went by before they said what we all knew: "The vehicle has exploded."
I and my two friends, David and Grady, turned and started walking back into the building. Nobody was saying anything; I remember walking as if it were a dream. We were kind of in shock, I suppose. We went in, and we walked toward the stairway to go back up to our second floor office. We never took the elevator; it was old and slow, and meant for freight. But this time, just as we were getting to the elevator on our way to the stairs, the doors opened right in front of us. There was nobody on the elevator getting off, and nobody waiting there to get on. It was as if the elevator were just offering us a ride. We got in, but not one of the three of us had the presence of mind to press the button for our floor; we just stood there, still stunned, not talking, just staring. The doors closed and the elevator went up, past our floor, all the way to the fourth floor: the firing room. And then the doors opened, and there was the launch control crew in front of us.
And there, at that moment, coming down the stairs from the rooftop, walking right past in front of us, was this little girl, about six or seven years old, screaming "Mommy! Mommy!" and there was a tall, gray-haired, dignified couple holding her hand and trying to comfort her, but they themselves were looking stricken, in deep pain, ready to cry or crumple. And I felt as if I'd just been caught snooping into something too private, too personal, too painful for anyone ever to see. By pure chance, simply because we'd stumbled into the elevator and been too dazed to think about pressing the button for our own floor, we'd just seen the astronauts' families only moments after they'd watched their loved ones die.
That night, at home, with the television endlessly showing the disaster and giving information about the astronauts who had died, I found out who those tall old people and the little girl were. They were Christa McAuliffe's parents and her daughter."
Damn.
Magic Johnson's HIV announcement – November 7, 1991: The physical examination was supposed to be routine. Los Angeles Lakers owner Jerry Buss wanted to give Magic Johnson a gift -- a $3 million dollar loan to supplement his salary. But Buss' advisors suggested that he take out a life insurance policy as protection against the loan. Naturally, Johnson agreed.
The results were anything but routine. The results not only changed a league, a franchise, a city, and a man.
It changed the world.
On that day, I got off the bus from school, took off my book bag, turned on the TV, and was greeted with a breaking story that literally took my breath away.
"We got some news coming out of L.A. that will shock you. Magic Johnson, the superstar point guard for the Los Angeles Lakers, will hold a press conference later today to announce he is retiring from the NBA after testing positive for HIV, the virus that causes AIDS."
It took a couple of seconds for my brain to process what I had just heard. And then I immediately screamed, "OH MY GOD! MAGIC JOHNSON IS GOING TO DIE!"
I got home at 4 o'clock. The press conference was at 2 o'clock West Coast time, 5 o'clock on the East Coast. I kept looking up at the clock.
4:15. 4:20. 4:25. 4:30
Tick, tick, tick, tick, tick.
Time could not have moved any slower.
Finally, the clock strikes 5. I pull up a chair, and I'm sitting ridiculously close to the TV. I watch as members of the Lakers organization (the general manager Jerry West, the owner Dr. Buss, the assistant general manager Mitch Kupchak, the head coach Mike Dunleavy) start to walk into that little press room at The Great Western Forum. Magic walks in with his wife Cookie.
I nervously bite my nails.
"Because of the HIV virus that I have attained I will have to retire from the Lakers, today."
In that room, I watch as grown men began to cry. But not Magic. He shows absolutely no trace of self-pity.
Leigh Montville - Sports Illustrated, November 18, 1991 - "An insulation of miles and distance and anonymity did not exist. This sadness was here, now, inside the locked front door and right in the room. It was part of the air we breathed. A gunman can go crazy, and fires can burn, and the homeless can even stare directly into our faces on the street, and the connections at best are superficial. Too bad for these people. Isn't it a shame? Too bad. But Magic? This is someone who has lived in our house for 10 years, 12 years, for as long as some of our children can remember."
"He has told us what soft drink he prefers and what shoes he wears and how drugs can kill and why staying in school is very important. There has never been a time he did not want to talk, so we know so much more about him than just the basketball stuff. We know his background. We know his worries in the present, his plans for the future. We know his laugh, the sound of his voice, his smile. He has shared his joys and his disappointments with us without reservation. He has probably spent more time with us—and we have spent more time with him—than most of our blood relatives."
"Now he was sick? A disease that we had viewed mostly with passive dismay was suddenly immediate, real."
Consider this. In 1991, the stigma surrounding the disease was so strong. and most of what we thought we knew about HIV and AIDS was inaccurate.
We thought it was a disease only gay men could catch.
WRONG!
We thought it was a disease only dirty drug users could catch.
WRONG!
We thought you could catch it from saliva, or from toilet seats, or from a person sneezing on you.
WRONG! WRONG! WRONG!
Magic's announcement started an important national dialogue about the importance of being educated about this disease, about getting tested, and about wearing condoms. When I went to school the next day, everybody was talking about it. It was the first time that people really opened their eyes. 
The world reeled from Magic's announcement. Here was perhaps the world's most charismatic athlete standing before us to announce he had contracted a virus with a 100 percent mortality rate. He immediately became the face of the disease. And many people said to themselves, "If Magic can get it, so can I."
It was also the first time the public found out about Magic's very hedonistic lifestyle: all the trips to the Playboy Mansion, all the private parties at Magic's palatial estate, all the hookups that took place after every Lakers game at the infamous Forum Club, where wives were banned and the women were plentiful. 
Today, 24 years after we all thought Magic was going to die, he is a wildly successful entrepreneur and social activist. He is still the most prominent celebrity with the disease.
Magic Johnson - "When I first announced, there was only one drug. Now there are twenty-six. People shouldn't be afraid to be tested. Early detection and all those combinations of drugs, it can really prolong your life. I had so much I wanted to do and accomplish, and I've been doing it. For the first five years, I didn't know what was going to happen. I was hoping the medicine was going to work, but you just don't know. In those years, it was always, "You okay? You okay? You okay?" everywhere I went. Now I don't get that. Now I get "You're doing great in business." No one checks anymore. Things are going great. I wear this as a badge of honor. I don't run away from it. I know that God has chosen me to make a difference in the world. So far, so good. Not only with HIV but with everything else I'm doing. I feel like I'm going to be here for a long time."
The OJ Simpson White Bronco chase – June 17, 1994: Four days earlier, Nicole Brown Simpson, the ex-wife of the Hall of Fame running back, and Ron Goldman, a waiter at a local restaurant, were brutally murdered on the steps of her Brentwood home. Bloodstains on the walkway where the bodies were found matched OJ Simpson's blood type. Two bloodstained gloves were found, one at the scene, the other outside Simpson's Brentwood home.
Police said that a trail of blood drops stretched across Simpson's driveway. They said bloodstains inside his home matched Nicole Simpson's blood type. Simpson becomes the focus of the investigation as evidence mounts against him, hour by hour, minute by minute.
Simpson's lawyers negotiated a deal with the Los Angeles Police Department that would allow Simpson to turn himself in at 11 a.m. Over 1,000 reporters waited for him at the police station, but he failed to appear. At 2 p.m. the LAPD issued an all-points bulletin. O.J. Simpson was now a fugitive. At 5 p.m. his friend and lawyer Robert Kardashian (Kim's dad!) read a letter from Simpson to the media. 
"I think of my life and feel I've done most of the right things. So why do I end up like this? I can't go on. No matter what the outcome, people will look and point. I can't take that. I can't subject my children to that ... I have nothing to do with the murder. I love her ... Don't feel sorry for me. I've had a great life. Please think of the real O. J. and not this lost person. Thanks for making my life special. I hope I helped yours. Peace and love, O. J."
An hour later, a motorist in Orange County saw Simpson riding in his white Bronco driven by his friend, Al Cowlings, and called the police. The police tracked calls placed from Simpson on his car phone. The lead detective on the case calls Cowlings on the car phone.
"O.J. is in the back seat holding a gun to his head," says Cowlings. "He says he'll never surrender."
Twenty police cars follow Simpson's white Bronco in a surreal, slow-motion chase. From Disneyland to Los Angeles, traffic on the 405, the busiest freeway in the country, comes to a standstill. People jam the overpasses. TV news choppers fly overhead. 
Throughout the country, 95 million Americans are glued to television sets. Bars and stores are packed with people watching. Business comes to a screeching halt. Customers are just standing, watching TV.
CNN, ABC, CBS, and NBC all interrupt their regularly-scheduled programming. NBC famously interrupts Game 5 of the NBA Finals between the New York Knicks and the Houston Rockets.
I watch with my cousin Lamont. It is one of the most riveting things I have ever seen. We sit glued to his couch, trying to predict how this will all end.
"Is he going to kill himself?"
"Is he going to get into a shootout with police?"
It all ended when he and his massive police escort arrive at his Brentwood home at 8:00 pm. After remaining in the Bronco for about 45 minutes, Simpson is allowed to go inside for about an hour where he talks to his mother and, I kid you not, drinks a glass of orange juice.
During one of the defining moments of his life, OJ drinks a glass of OJ! 
In the Bronco the police find $8,000 in cash, a change of clothing, a loaded .357 Magnum, a passport, family pictures, and a fake goatee and mustache.
The Columbine High School Massacre – April 20, 1999: It is the story of our times — someone walks into a public space, a theater, a mall, a school, armed with a gun, motivated by hate, by hurt, by some irrational form of desperation, and starts shooting. They come not to kill a specific person or persons, but to stage a dark and warped act of terror. They don't care about the people on the receiving side of their hateful infliction, or their loved ones, their hopes and dreams. It's selfish and its beyond disturbing. 
There have been 33 school shootings in America since Columbine. School shootings in every other country in the world COMBINED since that time is 14. We've created complex systems and over-funded programs to monitor foreign terrorists in every country, but somehow we've overlooked the terrorists at home.
At the time, we hoped Columbine wouldn't be the start of a horrific trend. 
We were wrong.
Twelve students were killed, one teacher was killed, and 21 students were injured in a massacre that, at the time, was the deadliest school shooting in American history (the Virginia Tech massacre in 2007 has since surpassed it).
I was a junior at Virginia Commonwealth University. I was walking through the student hall on my way to class when I noticed a group of students had gathered around a TV. I walked up and saw that a high school on the outskirts of Denver had turned into what looked like a war zone. 
This was an unimaginable tragedy. I remember how people tried to blame Marilyn Manson because the two killers, Eric Harris and Dylan Klebold, listened to his music. They tried to blame videogames. The massacre led to a huge debate about bullying and gun control. The word 'Columbine' became synonymous with school shootings. 
If you want to know the real story, you should read Dave Cullen's chilling, bestselling book Columbine. It took him almost 10 years to write, and it is extraordinary. It's a portrait of Harris and Klebold as a sort of In Cold Blood murderous duo – two kids, one suffering from depression, the other from a superiority complex, who for more than a year psyched themselves up for an Oklahoma City-style terrorist bombing -  an apolitical, over-the-top revenge fantasy against those who they felt had wronged them.
There was so much misinformation out there, so much that the media got wrong. Cullen's book destroyed everything we thought we knew about the killers.
Myth #1: The Columbine killers were social misfits who were bullied by their classmates.
Truth: Eric Harris was a charmer and he had plenty of friends. Dylan Klebold went to the prom the weekend before the shooting. Both killers attended football games, dances, and school plays. Neither of them were in the "Trenchcoat Mafia", and they definitely weren't the outcasts they were portrayed to be.
Myth #2: The Columbine shooters planned a shooting spree against jocks, blacks, and Christians.
Truth: Columbine was a failed bombing. Just after 11 a.m. on April 20, they lugged a pair of duffel bags containing propane-tank bombs into Columbine's crowded cafeteria and another in the kitchen. Then they stepped outside and waited.
Had the bombs exploded, they would have killed virtually everyone eating lunch and brought the school's second-story library down atop the cafeteria. Armed with a pistol, a rifle and two sawed-off shotguns, the pair planned to shoot any students who tried to escape the building in the aftermath. But when the bombs failed to explode, only then did they make their way inside.
In a 2004 article for Slate, Dave Cullen said this – "psychiatrists can't help speculating what might have happened if Columbine had never happened. Klebold might have gotten caught for some petty crime, gotten help in the process, and conceivably could have gone on to live a normal life."
"Their view of Harris is more reassuring. Harris was not a wayward boy who could have been rescued. Harris, they believe, was irretrievable. He was a brilliant killer without a conscience, searching for the most diabolical scheme imaginable. If he had lived to adulthood and developed his murderous skills for many more years, there is no telling what he could have done. His death at Columbine may have stopped him from doing something even worse."
September 11, 2001: I was living in Norcross, Georgia, which is about 20 miles northeast of Atlanta. I had just gotten a job at a new tapas bar in Midtown. I remember it being an absolutely gorgeous day. I jumped in my car at about 9:00 a.m. I turned on the Tom Joyner Morning Show and Tom was talking about how a plane had crashed into the North Tower of the World Trade Center. And I remember thinking, "Well that's weird." 
Any New Yorker reading this will remember that two weeks before 9/11, a paraglider flew too close to the Statue of Liberty, and he got his parachute stuck in her torch.
I was like, "It's New York. Crazy shit happens there everyday."
But just a couple of minutes later, they reported that another airplane had crashed into the South Tower of the World Trade Center. And that's when I felt the hair on the back of my neck stand up. That's when I knew that today was not going to be just another ordinary day.
That's when I knew we were under attack.
I remember sitting in my car, driving down the freeway yelling, "HOLY SHIT! WE UNDER ATTACK! OH, IT'S ON! WE GOING TO WAR! WE GOING TO WAR!"
My dad called me from back home in Virginia, and his first words were, "Are you alright son?" And I remember how hearing his voice had a calming effect on me.
"Are you near a TV?"
"No. I'm on my way to work."
"You know I don't like talking to you while you're driving. Just wanted to check in. Be safe. Call me later."
I was almost at work when I heard the news of the third plane that crashed into the Pentagon. By now, I was completely numb.
I walked into the restaurant where I worked and everyone was crowded around a TV that was mounted into the wall. It was then that I saw the devastation for the first time. I saw those two humongous skyscrapers, two symbols of America's financial might, burning out of control.
And then I saw the Pentagon, a massive building that is the defining symbol of America's military might, a building that I had drove past a hundred times, ... one side of it, destroyed.
I was stunned.
None of my coworkers said anything. Not until somebody yelled out, "Oh my god! They're jumping."
She was referring to the dozens of people, hopelessly trapped in the two towers, who were now jumping from open windows - from 70, 80, 90 stories up.
Then the news broke of the fourth plane crash somewhere in a field out in western Pennsylvania.
And then ... it happened.
At approximately 9:59 a.m., 56 minutes after United Airlines Flight 175 had slammed into it, causing it to burn ferociously out of control, the South Tower collapsed.
Several of my coworkers gasped. A few screamed "OH MY GOD!" Most of them began to cry.
I was speechless. I could not believe my own eyes. How in the world did that enormous building collapse? How? How was any of this possible?
And then ... it happened, again.
Thirty minutes after the South Tower collapsed, the North Tower collapsed. A female coworker ran past me and said, "I can't watch this."
Another female worker began crying so hard that others rushed to console her. I walked outside. And before I knew it, I had jumped in my car and started the engine.
Next thing I know, I'm driving home. I didn't say goodbye to anybody. I just left.
The news reports on the radio told the story of a nation in complete chaos. There were unconfirmed reports that several additional planes had been hijacked. There were unconfirmed reports that the Sears Tower in Chicago, and the Library Tower in Los Angeles were targets. I turned off the radio and drove north on Peachtree Street. Whenever I stopped at a stoplight, I could see the look of fear on the faces of the other drivers. It was a look that said, "what in the hell is going on?"
There are a lot of high-rise office buildings in Atlanta, and people were being evacuated from them. Police and fire crews were everywhere. There was no terrorist threat, but at the time, we didn't know that. I remember anxiously glancing up at the sky, looking for low-flying airplanes.
It was so eerie. I felt like I was in The Twilight Zone.
The first time I went to New York was in 1997. It was a trip planned by several of my fellow classmates. We went to see the acclaimed Broadway play 'Rent.' I will never forget riding into the city for the very first time. There is a small city in New Jersey called Weehawken. It sits directly across the Hudson River from Midtown Manhattan. You have to drive through it to get to the Lincoln Tunnel, which brings you directly into New York City.
The great thing about Weehawken is that it gives you a gorgeous panoramic view of the awe-inspiring skyline of Manhattan. As we were traveling into New York, we hit Weehawken, and that world-famous skyline jumped right out at me. And standing above it all was the Twin Towers, the two 110-story buildings collectively known as the World Trade Center.
I have a picture that my dad took of me during that trip. We went to the observation deck atop the Empire State Building. He took several pictures of me up there but the last picture he took was my favorite. It was me with a big smile, and behind me, towering above Lower Manhattan, was the World Trade Center.
And now those two iconic buildings were gone.
Like many Americans, I was vaguely familiar with the name Osama bin Laden. I had heard of al-Qaeda. I knew they were terrorists. But the havoc they created was overseas.
I never imagined they would attack America.
I finally made it to the freeway, and I began driving north to Norcross. I was alone with my thoughts, and my emotions ran the gamut – from anger, to sadness, to out-right panic. And then I saw a digital sign flashing from high above Interstate 85.
It was a sign that said, "NATIONAL EMERGENCY! ALL AIRPORTS CLOSED!"
America had just entered into the dawn of a new era. And it was terrifying.
The death of Michael Jackson – June 29, 2009: Me and my buddy Anthony were at Perimeter Mall, which is one of the 5000 malls located in metro Atlanta. The New York Yankees were in town and we had tickets. It was a couple of hours before the game and we were sitting in a bar drinking beer, waiting for the shuttle to come take us to Turner Field. All of a sudden our bartender and mutual friend, Stefanie, came over and said, "did you hear?"
 And we were like, "hear what?"
"Michael Jackson died."
"Girl, stop playing."
"No, I'm serious. It's all over TV."
"Wait. WHAT?"
Before my brain had time to process the news, the shuttle arrived. Me and Anthony gulped down our beer and we jumped on the bus. Word spread swiftly among our fellow passengers. Someone said, "I heard Michael Jackson just died."
The bus driver turned on the radio and we immediately heard the DJ confirm it.
"Um, not sure if you guys have heard the news but the King of Pop, Michael Jackson, died of cardiac arrest today in Los Angeles. Pretty sad. We'll let you know if any additional news breaks. But yeah, Michael Jackson has died. He was 50 years old. Rest in peace Michael."
As the familiar beat to 'Billie Jean' filled the speakers on the bus, random strangers all began to sing along to the signature song from the King of Pop.
She Was More Like A Beauty Queen From A Movie Scene
I Said Don't Mind, But What Do You Mean I Am The One
Who Will Dance On The Floor In The Round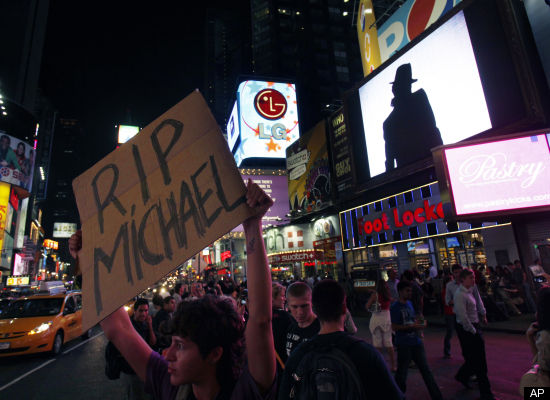 The next night was a Saturday night and my buddy Dave was DJing at a club in Midtown. I parked my car about six blocks from the club. As I walked down the always-crowded Peachtree Street, I heard 'Wanna Be Starting Something' coming from a Lexus full of Asian kids. Then I heard 'Don't Stop Til You Get Enough' coming from an SUV full of young white girls. Then I heard 'Remember The Time' coming from a BMW driven by a black couple.
Car, after car, after car, after car. It was amazing.
In the 80s when I was a kid, I was a die-hard fan of Michael Jackson. I was infatuated with him. I had all his albums. I had the white glove. I could do the moonwalk. And when he suffered those second-degree burns while filming that Pepsi commercial, I remember I cried like a baby.
His death set off a worldwide outpouring of grief unlike anything I had ever seen. I was sad too. But a few days later I was able to pull back and carefully analyze the situation. And the truth is, while I will always love his music, I walked away from him as a fan years ago. Too many sleepovers with young boys, too much plastic surgery, too many failed comebacks, too much erratic behavior, it was all just ... too much.
The tabloids may have devoured his bizarre personal life, but his professional achievements are unlike anything we have ever seen. According to the Guinness Book of World Records, he is the most successful entertainer of all-time. He sold a jaw-dropping 400 million records worldwide. And nobody had a bigger influence on popular culture.
Nobody.
And here's something else to ponder. No musician will ever be as famous as Michael Jackson. His death represents the end of an era. When he released the record-breaking Thriller album in 1982, there was only one music video channel, MTV.  Today MTV no longer plays videos, leaving that chore to their sister spinoffs MTV2 and MTVU, and also to the various other cable channels that play videos (VH1, BET, Fuse, Palladia, etc). There are all these niche music channels, and all these niche radio stations that exist today that didn't exist in 1982. It's practically impossible for an artist, no matter how charismatic and talented, to draw fans from all across the spectrum the way Jackson did.
He had his demons. Lord knows he did. But I thank him for sharing his unique gift with the world. And sometimes, when I'm feeling down, when I'm feeling uninspired, I pour myself a glass of wine, and I listen to one of my all-time favorite songs ...
I'm Gonna Make A Change,
For Once In My Life
It's Gonna Feel Real Good,
Gonna Make A Difference
Gonna Make It Right . . .

As I, Turn Up The Collar On
My Favorite Winter Coat
This Wind Is Blowin' My Mind
I See The Kids In The Street,
With Not Enough To Eat
Who Am I, To Be Blind?
Pretending Not To See Their Needs

A Summer's Disregard,
A Broken Bottle Top
And A One Man's Soul
They Follow Each Other On The Wind Ya' Know
'Cause They Got Nowhere To Go
That's Why I Want You To Know

I'm Starting With The Man In The Mirror
I'm Asking Him To Change His Ways
And No Message Could Have Been Any Clearer
If You Wanna Make The World A Better Place
Take A Look At Yourself, Then Make A Change