One of my very first friends was a white kid named David Parker. He and his family moved across the street from me when I was six. We bonded immediately. His parents were real cool. I remember they had a lot of movies on VHS, literally dozens and dozens of movies, and we used to all sit around and watch them. His parents used to take me to the beach at Nags Head. They used to take me to the mall. And sometimes other people would give us this funny look like, "what's this black kid doing with this white family." I used to mess with people all the time by telling them that David's father was my adopted father.
"Hello. I'm Arnold Jackson. And this is my dad Mr. Drummond."
This was the early 1980s and the TV show Diff'rent Strokes was big back then.
I think David and his family helped demystify white people for me. They taught me at a very young age, that white people were not caricatures and stereotypes, but actual people. And because of them, I grew up to be real comfortable around white people.
I can't say the same about other races. In my tiny hometown in North Carolina, it was only black folks and white folks. That's it. I had no exposure to people of other races. This became problematic when I moved away to Richmond, Virginia and attended J. Sargeant Reynolds Community College.
My first year in college was a struggle for me socially because I was always saying something that was racially insensitive. I wasn't trying to be an asshole. I wasn't trying to be racist. I was just ignorant.  When I went away to college I was exposed to other races of people whom I had only seen on TV. And because American television is a terrible medium in which to learn about different people, I ended sounding like a complete dingbat.
For example:
Me to a Chinese American classmate: "Can you see as good as me? You know, because of your eyes."
Me to a Japanese American classmate: "Do you know kung fu?"
Me to a very attractive Indian American classmate: "You're really pretty for an Indian girl."
Me to an Ethiopian guy in my study group: "You're from Ethiopia? Wow! I thought Ethiopian people lived in trees or something."
Him (getting visibly annoyed): "Nope. I grew up in a house."
Me: "So how did you end up in America? Was it through Sally Struthers?"
Him: "Who the fuck is Sally Struthers?"
That first year of college was rough. I remember this so vividly because it was so embarrassing. In order to fight my racial ignorance, I made a conscious effort to befriend people from diverse backgrounds. Throughout my life I have made friends who were Chinese, Vietnamese, Filipino, Mexican, Ethiopian, and Pakistani.
And SPOILER ALERT! They're just regular people. Sure, they have different customs, and they sometimes eat different food but they're normal people.
One thing me and my not-white-friends have in common is that we are always aware of our otherness. America does an awesome job of making you feel like an outsider if you aren't white. It's like what the great Toni Morrison once said:
"In this country, American means white. Everybody else has to hyphenate."
My girlfriend is white. Her roots trace back to Italy. Society doesn't refer to her as an Italian-American. She's just "American." Why can't I just be "American?" Why am I an African American? I'm not from Africa. I'm from North Carolina.
You know who's really an African-American?
Charlize Theron! She's more African than me.
These are the kinds of things you think about when you're black?
Here are a few other things:
Why are black people 13% of the population and 95% of every episode of COPS?
Why do people keep insisting that we live in a post-racial society because we have a black guy in the White House? Both times Barack Obama ran for president, the majority of white people voted for the other guy!
White people keep telling me "race doesn't matter anymore." If that's true, why do they still ask you what's your race on job applications?
Why are black people always the token friend who dies first in a horror movie? Why are black people always the main character's sidekick?
Why do white people only see racism when it's obvious? Like at a Ku Klux Klan rally, or when Paula Deen confessed to saying "nigger."
Why is there a black scold?
You don't know what a black scold is? Well let me school you. A black scold is a rich and successful black person who goes on TV and says, "racist white people aren't the problem! Lazy black people are the problem. Y'all embrace this ghetto culture. Y'all sit on your butts all day watching BET, listening to thug music. Every other word out your mouth is bitch this and nigga that. Why don't y'all put down the 40 ounce of Malt Liquor, pull your pants up, and get a job? Why don't y'all stop killing each other? And why do all these black women have five and six different baby daddies who are either dead or in jail?"
There's some truthiness in the black scold's criticism. Yes, black people should be terrified of the high rate of black-on-black homicides, many of which turn into cold cases because witnesses are fearful of retaliation ("snitches get stitches"). And there are few things more depressing than seeing a black woman standing at a bus stop with her four kids. Sociologists blame the horrid conditions of black people living in the ghetto on poverty, shitty schools, the crack cocaine epidemic, and a lack of jobs. 
The Great Migration began in 1910 and it lasted until 1970. During that 60 year period, six million African-Americans fled the racially segregated South to Northern and Western cities in search of freedom and opportunity, and most of them ending up in isolated ghettos. This is a map from 1934, showing the concentration and location of Chicago's blacks in the middle of a period that saw their proportion swell from less than two percent of the city's population to around a third. Thanks to racist policies such as redlining, it hasn't changed much nearly a century later, and the story isn't much different in our other major cities. This is what Ta-Nehisi Coates means when he invokes the "half-assed social contract" handed down to black people, the way we ignore that America turned its own citizens into a refugee population.
We don't like to talk about this, so we talk around it instead. We get respectability politics. We get the black scold who places the blame squarely on lazy black people! We get sermons that serve as catnip to the very people who think institutionalized racism is a bunch of phony-baloney. You know these black scolds. They are people like Charles Barkley, Herman Cain, Ben Carson, Don Lemon, and the man who puts roofies in his Jell-O-Pudding Pops, Bill Cosby.
(I know that was a cheap shot on Cosby, and I don't care.)
When black people take to the streets to riot over injustice, Fox News always brings out the black scold to reprimand their behavior. Where's the white scold? Where is the white person who goes on TV and reprimands all the white people who riot because their team won the big sports game, or because their team lost the big sports game?
Just once I'd like to see that.
Hey, here's a fun fact. Americans suck at talking about race. It is impossible for us to have an open, honest, and productive conversation about race. 
Hell, we can't even have an open, honest, and productive conversation about Iggy Azalea!
And you know what America? It's not your fault. Most of you didn't go to a high school, or a college where privilege, racial or otherwise, was the subject of a workshop, or a classroom discussion.
In order to have an honest conversation about race, white people need to be able to say stuff that might make black people uncomfortable. And black people will need to say stuff that might make white people uncomfortable.
It's like being married. You know how you have to sometimes tell your spouse something about themselves that will likely piss them off?
Talking honestly about race is just like that.
If you're a white person reading this and you are interested in talking about race with black people, great. That's awesome! Just know that there are eight things that you cannot say to black people.
And why can't you say these eight things?
Because black people hear these eight things ALL THE TIME! And every time we hear one of these eight things from white people, we feel a strong urge to vomit.
Here are the eight …
"I'm not racist. I have black friends."
Donald Sterling has black friends, and he's a racist. Donald Trump has black friends, and he's a racist. Having black friends doesn't cure you of racism.
"You speak so well. You're so articulate."
This is a backhanded compliment, which means that if you say this to me, I will backhand you.
"You probably voted for Barack Obama just because he's black." 
I voted for him because I support his policies, like raising taxes on the super-rich, making sure women are paid equally, and making sure people have access to healthcare.
I also voted for him because he's black.
"Why can you say the n-word and I can't?"
White people have everything in this country. And the things white people don't have, they're taking, like black neighborhoods. Been to Harlem recently? Lots of white people. Been to Bed Stuy, Brooklyn recently? Lots of white people. Been to Washington D.C. recently? They used to call D.C. Chocolate City. Now it's Vanilla City!
The one thing white people don't have is the ability to say "nigger." And a lot of them are really mad about it.
Here's my question: Why would you want to say it?
And let's keep it real. The white people who are most upset about not being able to say it in public, are the same ones who are saying it in private.
And also, when a white person goes on TV or on the Internet and calls black people "thugs", we all know what you really mean.
Orange is the new black, and thug is the new nigger.
"I don't see color."
Yes, you do. Our society has taught all of us to see color FIRST! If you're a white person who says "I don't see color", STOP IT! Your black friends think you're full of shit.
"Do you like fried chicken?"
I'm a vegetarian, so not anymore. But when I ate fried chicken, it was delicious. And you know what? I'll never understand that American thing of associating fried chicken with black people. I mean, how can food be a racial stereotype?
Now if you'll excuse me, I'm going to go drink some Guinness while eating some potatoes.
"I don't have white privilege. That's bullshit."
The most compelling argument for the existence of white privilege is the fact that there ain't a white person alive who would trade places with a black person.
White privilege does exist. It doesn't make white people racist, it's just that there are certain things white people don't have to worry about that people of color do. There are many employers who won't call people in for interviews if their names don't sound white. When white people turn on the TV, they don't have to turn to a specific channel like BET or Univision, just to see people who look like them. When white people get a prestigious job, nobody ever wonders if they got that job because of affirmative action. When white people get pulled over by the cops, they never have to ask themselves, "Did he pull me over because I'm driving a brand new BMW in this nice neighborhood?" White privilege could be something big, like how black people are given harsher sentences than whites, even for committing the exact same crime. Or it can be something as small as going to CVS and buying a "Flesh-colored" band-aid... the flesh color is for white people. They don't have "flesh-color" for darker skin. These are some of the perks given to white people because of institutionalized racism. Even the fact that white people don't have to educate their children on institutionalized racism is a perk in itself. You aren't wrong for being privileged and it's not your fault, but you can't deny its existence either.
"Why do black people have to make everything about race?"
Because everything IS about race.
Black people are 50 percent more likely to be incarcerated for drug crimes than white people, even though white people use drugs and sell drugs at the same rate as black people.
That means our justice system is racist.
Black students are three-and-a-half times more likely to be suspended or expelled from school than their white friends.
That means our educational system is racist.
Minorities make up more than 36 percent of the population but are only 10 percent of lead characters in movies, and sat in only 12 percent of director's chairs.
That means our Hollywood system is racist.
A black teenager is 21 times more likely to be shot by a cop than a white teenager.
That means our police system is racist.
According to a recent survey, most white people think race played no factor in the deaths of Michael Brown and Eric Garner.
I, on the other hand, am convinced it did. 
 -----------------------------------------------------------------------------------------------------
Once upon a time I wanted to be a famous songwriter, like my idols Diane Warren and Babyface. I wanted to learn how to craft hit songs. So I learned how to build a pop song from the ground up. It's not something you're thinking about while you're lip-singing to Bruno Mars or Rihanna. But the fact is that popular music has a very basic structure.
It's verse 1, chorus, verse 2, chorus, bridge, and chorus.
Eighty percent of the songs you hear on the radio have this formula. And you, the listener, have heard songs with this formula for so long that your brain has been conditioned to expect it. It's not even something you consciously think about.
It's the same thing with blockbuster movies. There's a predictability, a been-there-done-that feeling that comes with watching a massive, $200-million-dollar movie playing at your local 24-theatre Cineplex.
That's because all these blockbuster movies have the exact same story beats:
The hero gets dressed down by his mentor in the first 15 minutes (Star Trek Into Darkness, Battleship); the villain who gets caught on purpose (The Dark Knight, The Avengers, Skyfall); the moment of hopelessness and disarray a half-hour before the movie ends (The Guardians of the Galaxy, Captain America; The Winter Soldier, Fast and Furious 6).
Pick any blockbuster movie, watch it, and then glance at the time; there's a story-starting catalyst midway through the first act, a shootout at the midpoint that ups the ante, an all-is-lost moment—including a death—between the 75- and 80-minute mark, and a concluding final act in which the bad guys are eliminated in ranking order.
But pop music and blockbuster movies aren't the only things that suffers from déjà vu.
When an unarmed black person is killed by police, what happens next is as formulaic as a Katy Perry chart-topper, and as depressingly-predictable as an overstuffed piece of Michael Bay celluloid.
The story beats are always the same. 
An (unarmed) African American is killed by police.
Controlling the narrative, police release their version of events and state that they had no choice but to use lethal force.
Eyewitnesses, recordings, and indisputable facts contradict the police narrative and expose glaring inconsistencies in their story.
The character assassination of the shooting victim and his family begins.
The officers are not punished for what they did.
To prove my point, let's take a look at the high-profile killings of unarmed black men by police last year, killings that sparked an unprecedented number of protests nationwide.
And keep in mind, the story beats are always the same.
An unarmed 18-year-old African American named Michael Brown was shot and killed by a police officer in Ferguson, Missouri.
The Ferguson Police Department waited a week until they released the name of the cop who shot him because of "safety reasons." They stated that Brown had attacked the officer, and that the officer had no choice but to kill him.
Numerous eyewitnesses are interviewed by the news media and they say the cop shot Michael Brown while he had his hands up.
On the day the Ferguson Police released the killer cop's name (Darren Wilson), they also released a surveillance video from a convenience store that appeared to show Brown taking some cigarillos without paying for them. The police chief said he released the video because the media "was asking for it", which was weird because the media didn't know there was a video. Later that same day, the police chief was forced to admit that the surveillance video had nothing to do with the shooting. The cop who shot him had no idea Brown had just walked out of a store with some unpaid cigars.
A grand jury failed to indict Darren Wilson despite controversial eyewitness testimony from "Witness 40", a white woman with a racist background and a history of lying on the witness stand, a woman who testified she saw Michael Brown charge Darren Wilson "like a football player", a witness whom the prosecutor later admitted wasn't at the scene of the shooting.

Eric Garner had just broke up a fight in Staten Island, New York. A swarm of police officers surround him and question him about selling loose cigarettes. Garner tells the officers, "I'm minding my business. Please just leave me alone." Even though Garner posed no threat to the officers, a cop by the name of Daniel Pantaleo jumps on his back and applies an illegal chokehold. Garner tells the officer nine straight times, "I can't breathe", before he finally collapses and later dies.
The head of the NYPD police union, Pat Lynch, tells the public that Garner did not die of a chokehold.
A cell phone video that was released to the public clearly shows Eric Garner dying of a chokehold.
Congressman Peter King (R-NY) went on CNN and assassinated Garner's character in the most grotesque manner possible, when he opened his mouth and said these words:
 "If he had not had asthma and a heart condition and was so obese, almost definitely he would not have died from this. The police had no reason to know that he was in serious condition. I know people were saying that he said 11 times or seven times, 'I can't breathe.' Well, the fact is, if you can't breathe, you can't talk." 
      5.  In December, a Staten Island grand jury decided not to indict Daniel Pantaleo for killing Eric Garner, even though a coroner had ruled Garner's death a homicide.
John Crawford III picked up a pellet gun in an Ohio Walmart and was casually walking around with it, while talking to the mother of his two children on his cell phone. Cops appeared suddenly, responding to a bogus 911 call in which a man said Crawford was pointing his gun at people. Within seconds of arriving, the police shot him six times.
The cop who fired the fatal shots said he did so because Crawford didn't respond to multiple commands to drop his weapon. He also said that Crawford turned to him in "an aggressive manner."
 In other words, he had no choice. He had to kill him.
       3.  The video that was released to the public completely contradicts this. Crawford didn't have time to drop his weapon because he was shot immediately.
      4.  Shortly after his death, the Cincinnati Enquirer published a report on Crawford's criminal record, stating that he had minor offenses for marijuana possession and disorderly conduct.
      5.  A grand jury decided not to indict the cop who killed John Crawford III.
Twenty-two-year-old Darrien Hunt was wearing an anime costume and swinging a replica samurai sword when he was approached by two police officers in Saratoga Springs, Utah. They were responding to a 911 call about a "suspicious" person. After a verbal exchange that lasted just 37 seconds, Hunt, for reasons unknown, began running. After a brief chase, Hunt was shot dead by the two officers who fired a total of seven shots, four of which struck Hunt in the back.
The official story from the cops was that Hunt lunged at one of the officers with his sword as they got out of their squad car.
    In other words, they had no choice. They had to kill him.
       3.  But a photo taken by an eyewitness clearly shows Hunt smiling at the officers as they approached him. Another eyewitness stated that the officers mischaracterized what he told them. They said that he said he saw Hunt swing his sword at them. But the eyewitness told a local reporter that he never said that to those cops.
       4.  In their report following the shooting, the Saratoga Springs police stated that Hunt "liked hallucinogens and had taken acid approximately three weeks prior." But according to the toxicology report, Darrien Hunt was not under the influence of any drugs.
       5.  A prosecutor cleared the two officers of any wrongdoing, saying that their actions were "justified".
In November 12-year-old Tamir Rice was shot and killed by Cleveland police officer Timothy Loehmann. He shot Tamir after he mistook his air rifle for a semiautomatic.
The Cleveland Police Department said that Tamir didn't respond to their commands, and that he pulled the gun from his waistband and pointed it at the cops. They said that the cops "had no choice but to kill him".
A surveillance video from across the street recorded the entire incident. None of what the police said happened, actually happened. Tamir was shot two seconds after the cops arrived on the scene. They didn't say a word to him. They just jumped out of their squad car and started shooting.
On the same day the video of Rice's shooting was released, the Northeast Ohio Media Group published a report titled, "Tamir Rice's Father Has History of Domestic Violence".
A prosecutor hasn't decided on the fate of the officer yet, but is there any doubt how this is going to end?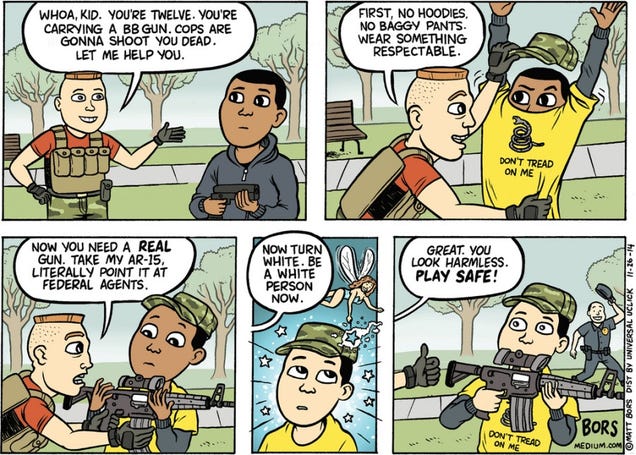 I knew Michael Brown's killer would walk. I knew Eric Garner's killer would walk. I knew Trayvon Martin's killer would walk.
Tamir Rice's killer is going to walk too.
I've already seen this movie before. I know how it ends. I feel bad for the people who actually think this time justice will be served.
It's like watching Lucy tell Charlie Brown that this time, this time she's going to hold the football so that he can kick it, only to pull it away again at the last second.
Hahaha! Jokes on you blockhead!
I learned my lesson 20 years ago after an all-white jury somehow failed to convict the four white officers who beat Rodney King to within an inch of his life, even though the attack was on video for everybody to see. That verdict taught me a powerful lesson …
Cops are innocent until proven innocent.
-------------------------------------------------------------------------------------------------------------
It's easy for White America to casually dismiss police brutality because it's not happening to them. Cops don't automatically assume that their sons are dangerous, or up to no good. Their sons don't get pulled over because they were driving while white. Their sons don't get stopped and frisked.
I wrote this essay for all of my white friends, so they can truly understand how Black America feels.
I also wrote this for my 17-year-old brother. He's a good kid. I mean, he won't clean his room, but other than that, he's good. He doesn't run with the wrong crowd. He gets good grades. He loves sneakers, video games, and Kevin Durant. He's 90 pounds soaking wet. He wouldn't hurt a flea and he's never been in any real trouble.
I wrote this for my girlfriend's nine-year-old son. Yeah, she's white, but her son is black. He's this adorable ball of artistic energy. All he wants to do is paint, play chess, and watch Michael Jackson videos on Youtube.
But they both need to understand something.
They're black and they're male. That's two strikes. It's the saddest thing in the world to have to tell a young black boy that he was born a suspect. But it's the truth. There's no way to sugarcoat it.
This is the depressing shit we tell our young black men. White parents have the luxury of never having to tell their sons the proper way to behave around a cop. They never have to write down a list of rules. A list of rules that look like this …
Never wear a hoodie at night.
Don't try to break up a fight because cops wont make a distinction between the peacekeepers and the combatants.
If you get pulled for a traffic violation, use your Sunday School manners.
Keep your hands where they can be seen.
Never ever argue with a cop.
Ask the police for permission to reach for your license, your insurance card, and your registration.
The police are not your friends. Society tells you to trust them. But they don't trust you.
You and your friends should never wear matching outfits because cops will think you're in a gang.
If they detain you for some arbitrary reason, do not answer any questions. Never. Under any circumstances. Keep asking: "Am I free to go?" "What are the charges?" If the answer to these questions are, "No", then you don't have to answer. This is important because they want you to tell as much information as possible so they can arrest you for something you have not done, but accidentally implicated yourself in. Because trust me when I tell you, the police are ALWAYS looking for somebody who matches your description.
For example …
Black male: "Yes, I was at the mall."
Police officer: "Oh, funny you should say that boy. Someone matching your description was reported stealing from the mall."
*draws gun*
"So why don't you get on the fucking ground … "
These nine rules are all variations of a single theme: Don't give them a reason to kill you.
Because they will. 
One thing that always happens in our conversations about race is the idea that America's history — a history that most Americans don't know about in all of its ugliness — has little bearing on the present, and that we should stop harping on it. But that's simply not true. The attitudes that justified slavery and Jim Crow, and the mechanisms by which they were carried out became enshrined in our laws and customs, in a depressingly vast constellation of ways.
When social scientists write about "white supremacy," they're not referring to neo-Nazis or skinheads, but to the ways that whiteness has been central to the idea of full citizenhood in the United States. White supremacy, then, is the broad, historical antagonism or skepticism in American life toward groups of people that aren't white. It found its most destructive expression in the legalized and socially sanctioned rape and torture of enslaved Africans, or the genocidal wars against Native Americans, or the violent discrimination against Asian-American laborers in the American West. But white supremacy isn't just those crimes, obviously, but in the rationales --- pseudoscientific, economic, and political --- used to justify them.
There was lots of discrimination against lots of European immigrants to America. There were race riots against Germans and others who were widely seen as dirty, ignorant people who would drive down the wages of "real," native-born Americans. There were all kinds of laws that were put in place that were meant to specifically keep people from those groups from voting. In the racial attitudes of their day, they were not considered properly white (That is, Anglo-Saxon).  But it's no coincidence that the many European immigrant populations that were seen as not white --- Jews, Italians, the Irish --- slowly became accepted into the idea of "whiteness" as the constraints on black life in post-slavery America became more violently and systemically enforced. Whiteness began to encompass groups for whom those racist laws did not apply. This is our history. To be American, with full protection under the law, has meant being white.
The biggest way people can make a difference is by getting to know each other. One of the reasons gay rights has become more accepted is that almost everyone knows someone who is gay. The same cannot be said for people of different races.
I'm an outlier. I'm a black guy with a white girlfriend. I have many white friends. I have many black friends. I have many friends who come from a wide assortment of races. Did you know that millions of black people don't have a single white friend? Did you know that millions of white people don't have a single black friend? We don't live together, we don't go to school together, and we don't worship together. Folks form opinions based on limited exposure and the media. Rappers don't reflect the entire black community, just like NASCAR doesn't reflect the entire white community.
Where are we with race relations? Are we getting any better? Yeah. A little bit. We have an African American president. We have senators in Congress who are Latino. We have two governors in southern states who are Indian American. We just had an Indian American who was crowned Miss America. So, we're getting there, slowly. I loved what Chris Rock told Frank Rich in a recent interview. He said this ... 
"When we talk about race relations in America or racial progress, it's all nonsense. There are no race relations. White people were crazy. Now they're not as crazy. To say that black people have made progress would be to say they deserve what happened to them before."
He's right. I'm fortunate to be alive at a time when white people have never been nicer. That's why I welcome an open and honest conversation about race, no matter how uncomfortable it may be. Unfortunately, if this clip from The Daily Show is any indication, we still have a lot of work to do.